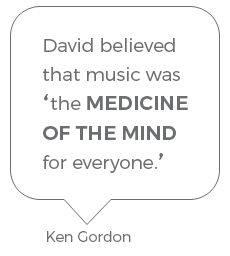 David Cohen's devotion to classical music and his regular attendance at the Vancouver Symphony Orchestra was the highlight of his life. His many warm connections with professional musicians and other music lovers in his community contributed greatly to his rich life. His encyclopaedic memory for music never ceased to impress all who knew him.

Before she passed away in 1993, David Cohen's mother had the foresight to engage with PLAN in the hopes that he would have others involved in his life when she was unable to be there for her son. PLAN's Community Connector, Ken Gordon, gathered a network of supporters including his fellow churchgoers and music loving friends.

Together they formed a large and supportive group. With the support of his network, David lived his life under his terms impacting everyone who had a chance to know him.