All
Most Recent
Popular
By Topic
Guest Posts
Inclusion
Resiliency
Advocacy
CAN'T BEAT IT:
Tony Shares his Cool Experience Drumming at an Open Mic Night
P4P: Would you please tell us a bit about yourself Tony?
Tony: My full name is Antony and I came to Canada in 1992. My facilitator Ellen got me into doing this this open mic thing because I wanted do it for some time. It was a long process to find the place.

When did you discover your love of drumming and music?
What happened was I started drumming when I lived in England and my teacher there, Mr. Falconer, who was one of my favorite teachers, said that I had a feel for music and a sense of rhythm. And he told my parents that they should look into getting me into music … the one thing I did not understand was the notes.


Being a drummer is what they call 'on percussion' which means you don't really read notes, so, like, you can't really say "Okay this is gonna be a G flat". So I joined a steel band and played Timpani, where there's no notes, it just says 'louder' or 'softer' like in a regular drum kit.

So then what happened?
There was somebody in our family who knew a drummer [also] named Tony who used to be in my sister's Majorettes. My sister and I had performed in some shows in summer camp. So, performing was kind of in my blood. But the problem was I had terrible stage fright. Oh, and I used to do funny things on stage like forget things and stuff like that. I always found playing music was easier because it was more relaxing. Tony was my first drumming tutor.

You mentioned you joined an orchestra?
Yes. But I was never really into classical music. But every now and then they'd bring out something that had some energy to it, like
Pennsylvania 6-5000
which was a fantastic old Glenn Miller song. I remember I had to play that. Nobody in the orchestra could get it right. It was too difficult. I spent a whole week on summer vacation practicing. The conductor got mad at everybody because I was the only one who'd actually gone and practiced.
It got to the point where everybody had been eliminated from the orchestra, and I wasn't having fun. So I said, that's it and I quit, I walked out. You know I stuck it out for some time, but I just wanted to learn to play the drums and this was my way of getting my foot in the door - so I left and went to a jazz band. Which was a very small jazz band, and it was more relaxed, you'd come in and the conductor would talk to you and joke around and it was more like a bunch of people having fun.

Did you take formal lessons at any point?
I had started taking lessons from Tony and then he stopped teaching me, because it turned out he could not read music, which is very common with a lot of musicians – they don't know how to read music.


I enjoyed the jazz band and then after that, I joined a marching band, which I really enjoyed, and they started me off in the junior band. And then from there I went into the main band as an apprentice, and I remember the drummer in the main band was a guy named Steve. He was a volunteer fireman, and he'd be called out for a fire which was the fun thing for me, because whenever something was on fire he'd be gone. And I'd have the drums to myself, I could be the main person.

Sounds like you've had lots of opportunities to try out different drumming styles...
Yeah, and then I met a professional teacher, and he was the real deal. My parents had to pay probably a lot more money for him, but he did the training through what they call the Guildhall School of Music and Drama, they do all the official music training for all of the people in England be it music or dance or drama or anything like that. I completed the Grade 1 and 2 drumming exams with the Guildhall School and began Grade 3.
And then I came to Canada, by this time I was about 17. I didn't like school, but I had to go back to school because I didn't have any Canadian qualifications or anything like that, so I had to go, which was an opportunity for me to work on my math and English which I was never really that good at. I took drumming lessons at
Just Drums
and
Soul Drums
in North York. I was taught by Dave Pritel and Ritch Greenspoon. Then I stopped as I could not commit time to practice with my work schedule.

So how did the open mic night happen?
The first time I tried to do an open-mic thing back when I was living at my parents, it was through the local radio station Q107 Classic Rock, which is at Yonge and Dundas. I actually did it there. I remember I got really nervous, I just totally messed up big time, I couldn't keep time and made a fool of myself because I just wasn't used to playing in public. It had been a long time since I played. I was kind of like a closet musician.
Some people, they just want to play in their garage, but I always wanted to do something bigger or better than that. So, it's the nerves that keep you alert. It's not easy when you stand in the middle of the stage and have the light shining in your face and there's nobody else. In a 100-piece orchestra you're right in the back corner, who's going to see you?

How did you find out about your second open mic night?
My facilitator researched and found out about an open mic night at the Painted Lady, a downtown bar on Ossington Avenue. I went up there and I put my name down and I told the guy Danny doing the registration that I was a drummer. I asked him to give me '12 bar blues'. And then he invited other musicians up onto the stage and they put stuff together, played the keyboard or sang, so it was like a big jam.
I had just got my hearing aids, because I've been losing my hearing. So usually the bass player follows the drums. But that night I'm trying to follow the bass player and he keeps bringing up other musicians. It's a very small bar. It's a very small stage. I can't even hear what they're doing. There was a young girl who was dancing in the front, kind of bobbing her head up and down, and so I was following her head for the beat. It's very easy to be intimidated because it's very dark, and they have the strobe lights all going around all over the place, so it's like a disco out there.


And with the drums kind of buried at the back of the stage, you can't really hear what other people are doing. But yeah, it was fun. I enjoyed it, but then after that we had to set off home because it was late.

So what's in the future for you as a drummer?

There was one guy who talked to me at the open mic night, and he wanted me to go back the next week because he was putting together a band or something.

But then I got a new job, and I was working as a delivery guy and I couldn't make the Monday nights. My job goes late into the evening depending on where you're going, sometimes you go from one end of the city right over to the other end.

Are there any other rehearsal spaces or open mic nights you'd check out?

In the Distillery District it looks like they're doing something like that down there. They have talent agencies with actors and musicians and it looks like they've got like a studio or stage where they set up for bands and things like that like.

And then you pay so much per month for the rehearsal space, because it's like a members-only thing and it costs a lot of money, trying to do it not using ODSP. But if you find a bunch of musicians, and then you get together and pool your your money together, maybe you can put together a rehearsal space.
That's a brilliant idea.
Yeah. Yeah, yeah, because I do miss the adrenaline. I do miss being able to practice, they have technology now where you can put rubber mats on drums, and it sounds like typing on the table. The other thing is using electric drums, but they don't sound the same as acoustic drums.

Do you have advice for other musicians or artists?
Yeah, go ahead and try it. You know maybe start by just performing in front of your friends. In some Partners for Planning videos I've noticed there are a lot of musicians, all these different people who like music. Usually most people think that if you have a disability you have to look weird or act weird. But with me a lot of it is invisible.

Do you have a highlight or favourite drumming story?
A funny story that I tell people is that I went to an actual drumming event, like a workshop, and there was a demo kit, a big pink drum kit with lots of drums all over the place like a real typical 80's rock star kit. Way bigger than what I was playing then, and I was just having fun and playing at it and people were standing around and they were looking at me, and they were just shocked how well I was playing, you know I was just a little kid and these were big guys.

Then some guy comes along who was organizing the event and he looks at me like I'm crazy and then puts this piece of cardboard on top of the drums that says "Do Not Play" because it was a demo kit which means you damage your heads or whatever, like a car once you go down the road, the body deteriorates. But then this drummer Charlie Morgan comes over and says "I heard you playing and you have a lot of skill". Charlie Morgan is the guy who plays the drums with Elton John! Oh my goodness, so yeah, that to me was the greatest compliment I've ever had.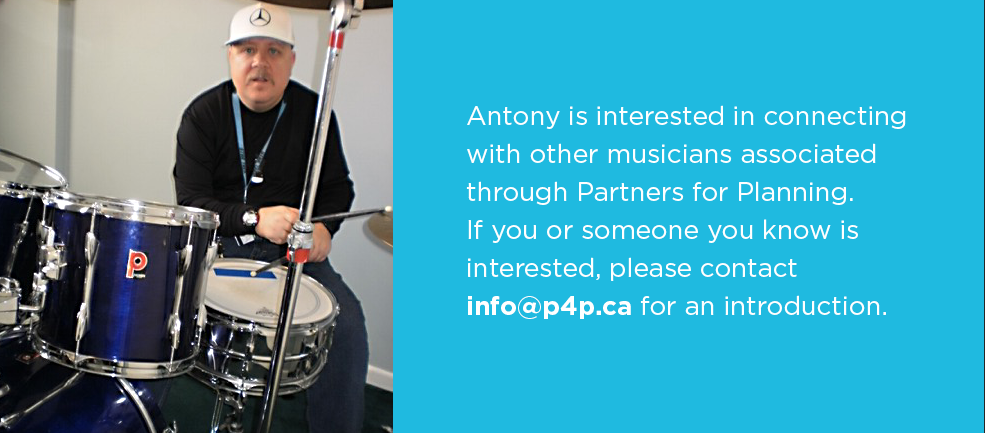 *This interview is condensed. P4P thanks Tony for taking the time to share his story.